We're looking forward to another amazing Spring Thaw retreat for Jr/Sr highers! We had an awesome group of around 100 youth, youth leaders and Sankanac staff in 2022 and it truly was an incredible weekend! Save the date for March 24-25th! Youth groups and individuals are welcome!
Coed, Grades 12-18 – Cost: $80
To learn more about Camp Sankanac, contact us at info@campsankanac.org or call us at 610-469-6320.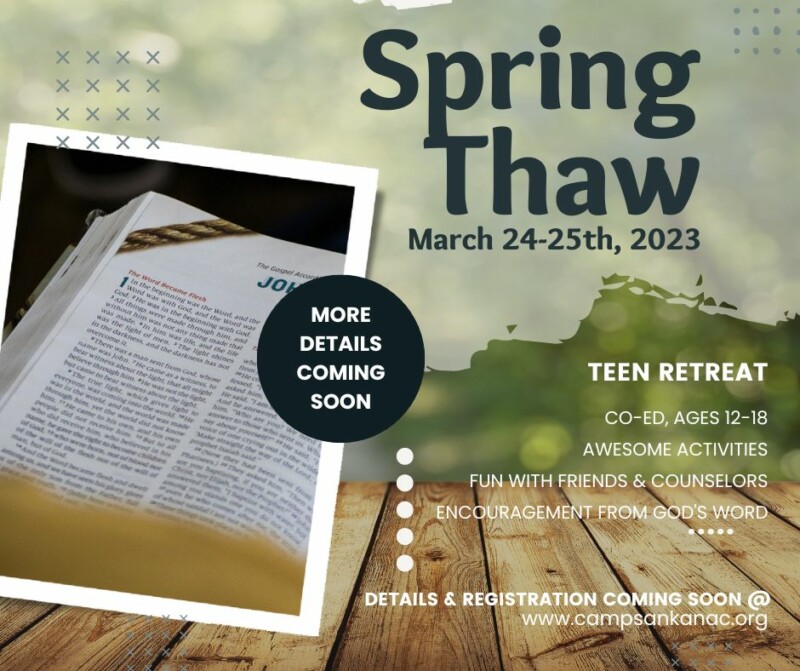 You don't want to miss out!
Theme: Salt & Light
Scripture: Matthew 5:13-16
"Salt of the earth?' "Light of the world?" What did Jesus mean by assigning these descriptive metaphors to His disciples? And what should it look like for us living out these spiritual realities in an increasingly dark and morally decaying culture? Come discover for yourself and get a taste of Sankanac's exciting and engaging Spring Thaw retreat!
Zach Chandler, Youth Pastor at Windsor Baptist Church
Zach Chandler presently serves as a pastoral intern and youth leader at Windsor Baptist Church in Uwchland, PA. He also serves as a chaplain's assistant in the Army Reserve. He recently received his bachelor's degree in Psychology from Liberty Univ. and is enrolled at Southern Baptist Theological Seminary pursuing his masters in pastoral ministry.
Want to stay in the know?
Want to stay up to date on all that God is doing here at Camp Sankanac! Follow us on our multiple social media accounts or sign-up for our regular newsletters and email communications!
Sign up for our newsletter!