Camp Sankanac is owned by BCM Intl. and is a 501(c)3 nonprofit ministry impacting hundreds of kids each year with the message of God's love. If you believe in the mission of Camp Sankanac and would like to make a financial contribution to further its impact, please fill out the short, secure form below. All donations are tax deductible.
To learn more about how to support Camp Sankanac, contact us at temmett@campsankanac.org or call us at 610-469-6320.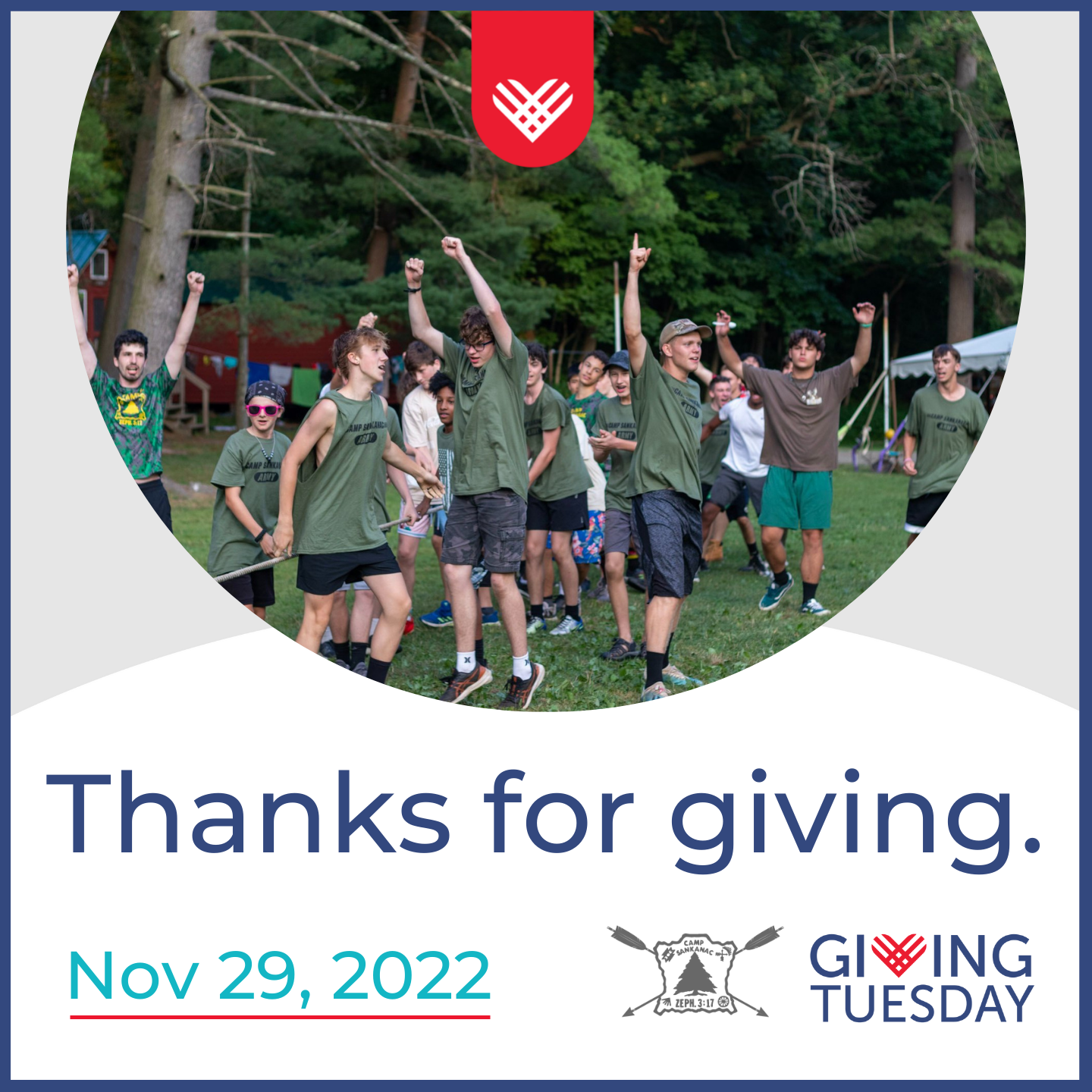 #GivingTuesday

Ended Nov 29th, 2022!



Nov. 29th, 2022!, Over $25,000 raised!
We participated in #GivingTuesday, a one-day, national philanthropic giving event! #GivingTuesday is happened on Nov. 29th, 2022 and was the perfect way to invite your friends and family (who are already accustomed to giving to nonprofits on this day) to support Sankanac! Thank you for helping us scholarship campers in need and start closing out the gym project by giving during this event!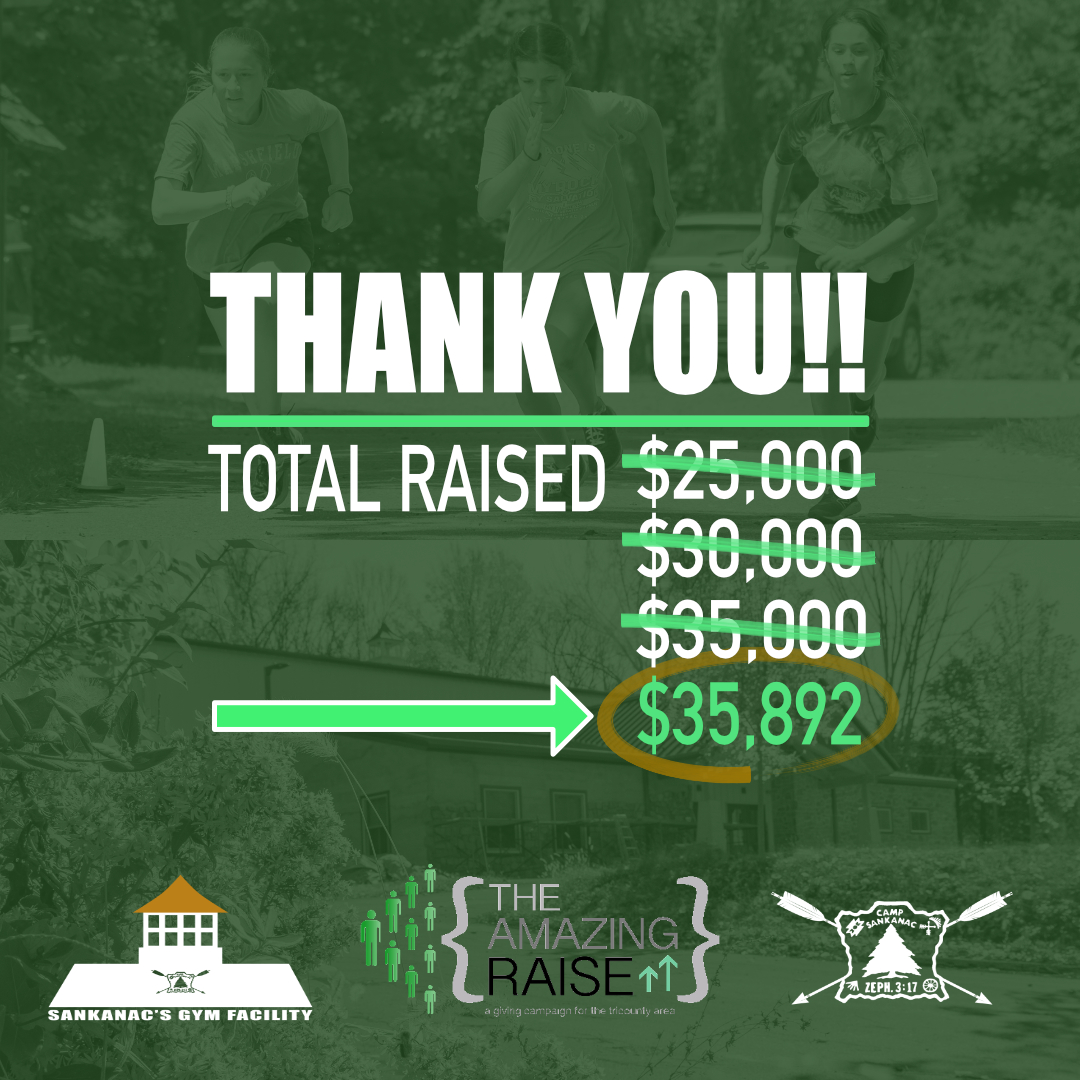 Amazing Raise

Ended Oct 31st!
Oct. 1-31st, Original Goal: $25,000, Total Raised $35,892!
We participated in The Amazing Raise, a community fundraising event that ran for the month of October, culminating on the 31st! Participating nonprofits received a percentage matching gift based on total donations raised and had a chance of winning multiple other financial awards which helped make your gifts go even further! Our goal for the Amazing Raise was to raise $25,000 (We already surpassed this amount and raised $35,892!) and to build community awareness. Thank you!! Meeting this goal will help us finish the Gym Project, and provide scholarships to campers in need!
•Percentage Match based total amount of incentive funds available / total amount Sankanac raises!
You can make a check or cash donation by sending your gift to:
BCM International, Inc.
201 Granite Run Drive, Suite 260
Lancaster, PA 17601
USA
Please make your checks payable to BCM International.  Please include the missionary/project name.
You can give online through our secure giving network by filling out the form above.
The term "planned giving" refers to charitable gifts that are arranged with forethought and planning and are executed over an extended period of time or at some point in the future.
Planned gifts are a popular method of giving because they can provide powerful tax benefits and sources of income.
Camp Sankanac is raising funds to finish our Gymnasium building! The building almost complete, but still needs to be furnished!
 Every child should have the chance to go to camp, yet many families cannot afford to send their child to camp- will you help them?
Camp Sankanac depends on individuals who care about making a difference in the lives of others in order to continue this ministry!
We need Godly individuals who will faithfully pray for us! Your prayers make a difference. Would you consider joining our prayer team? You can do so by Clicking Here.
We believe that giving joyfully and generously of one's finances is a biblical principle. We know that there are many ways to give and many Godly establishments to give to. However, if you feel that God is calling you to make a financial gift to Camp Sankanac, there are several ways you can give. All financial gifts are tax deductible.
Maybe you are ready to set your "boots on the ground?" We rely on the help of caring individuals who give their time and energy to help volunteer and make a difference. Additionally, every year we hire over one-hundred seasonal staff for summer camps or retreats. If you are interested in volunteering or employment opportunities you can email info@campsankanac.org
Want to stay in the know?
Want to stay up to date on all that God is doing here at Camp Sankanac! Follow us on our multiple social media accounts or sign-up for our regular newsletters and email communications!
Sign up for our newsletter!