Camp Sankanac is owned by BCM Intl. and is a 501(c)3 nonprofit ministry impacting hundreds of kids each year with the message of God's love. If you believe in the mission of Camp Sankanac and would like to make a financial contribution to further its impact, please fill out the short, secure form below. All donations are tax deductible.
To learn more about how to support Camp Sankanac, contact us at temmett@campsankanac.org or call us at 610-469-6320.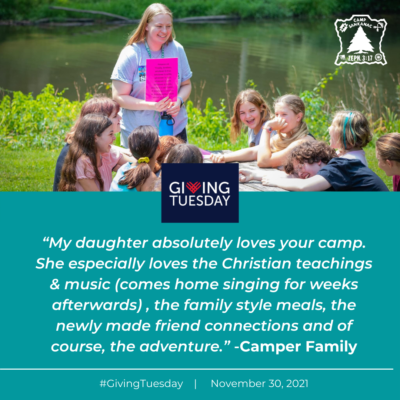 Happening Nov. 30th, 2021
We will again be participating in #GivingTuesday, a one-day, national philanthropic giving event! #GivingTuesday is happening on Nov. 30th , 2021, and is a perfect way to invite your friends and family (who are already accustomed to giving to nonprofits on this day) to support Sankanac!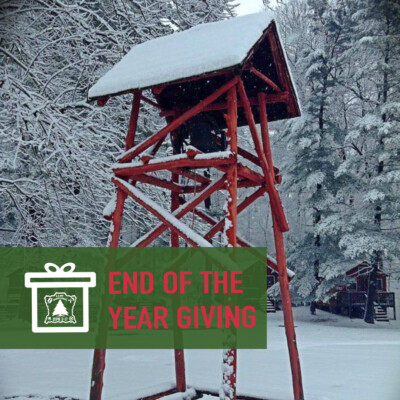 End of the Year Giving

(Happening Now)
Present- Dec. 31st, 2021
Have you considered making giving to Sankanac part of your annual end of the year giving plan? Do you have an end of the year giving plan? Consider talking with your financial advisor about the benefits of making year end donations to nonprofits like Camp Sankanac!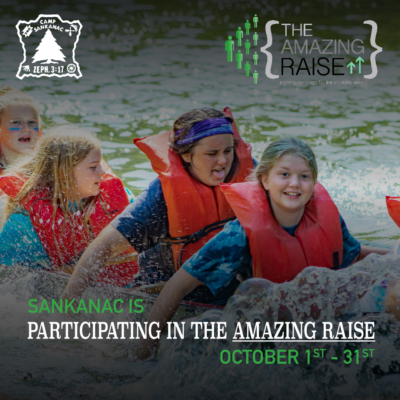 Almost $8,000 raised!
We are excited to announce that, for the first time ever, we will be participating in The Amazing Raise (AR). The AR is the perfect way to kick off our end of the year giving season! AR is a community fundraising event that runs for the month of October, with close to 40 different nonprofits participating. Those participating nonprofits receive multiple financial incentives and prizes which help make your gifts go even further! Our goal for AR is to raise $8,000 and to build community awareness. You can learn more and give by going to the AR website (Here) or you can give right here on the giving form at the top of this page!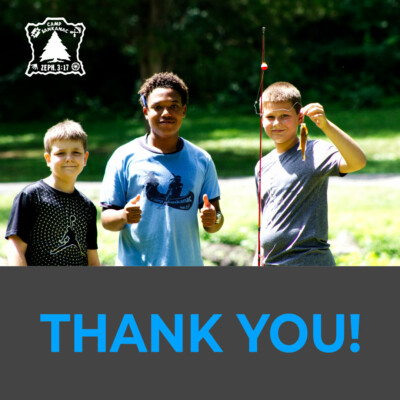 Over $110,000 raised!
On April 30th, 2021 we partnered with our missions organization, BCM International, to again participate in Reach Day. Reach Day has become an important annual, online giving event. With the financial difficulties inflicted on us by Covid-19 cancellations and closures, the support that came in on Reach Day was crucial. All gifts given towards Reach Day had the 12% administration fee waived and we had $55,000 in matching gift pledges for Reach Day, which meant your gift was doubled! Thank you to all who gave on Reach Day!
You can make a check or cash donation by sending your gift to:
BCM International, Inc.
201 Granite Run Drive, Suite 260
Lancaster, PA 17601
USA
Please make your checks payable to BCM International.  Please include the missionary/project name.
You can give online through our secure giving network by filling out the form above.
The term "planned giving" refers to charitable gifts that are arranged with forethought and planning and are executed over an extended period of time or at some point in the future.
Planned gifts are a popular method of giving because they can provide powerful tax benefits and sources of income.
Planned gifts often take the form of stocks and securities, wills and estates, artwork, real estate, or other assets.
Planned giving can be a powerful element of your wealth management strategy or estate planning process and can be arranged to benefit Camp Sankanac while providing a life income source for your spouse and other family members.
For more information, please contact your personal financial advisor and contact our Missions Organization, BCM Intl. for guidance concerning a planned gifts at giving@bcmintl.org
Camp Sankanac is raising funds to finish our Gymnasium building! The building is up and enclosed, but still needs to be completed!
 Every child should have the chance to go to camp, yet many families cannot afford to send their child to camp- will you help them?
Camp Sankanac depends on individuals who care about making a difference in the lives of others in order to continue this ministry!
We need Godly individuals who will faithfully pray for us! Your prayers make a difference. Would you consider joining our prayer team? You can do so by Clicking Here.
We believe that giving joyfully and generously of one's finances is a biblical principle. We know that there are many ways to give and many Godly establishments to give to. However, if you feel that God is calling you to make a financial gift to Camp Sankanac, there are several ways you can give. All financial gifts are tax deductible.
Maybe you are ready to set your "boots on the ground?" We rely on the help on caring individuals who give of their time and energy to help volunteer. Additionally, every year we hire over one-hundred seasonal staff for summer camps or retreats. If you are interested in service or employment opportunities you can email info@campsankanac.org
Want to stay in the know?
Want to stay up to date on all that God is doing here at Camp Sankanac? Sign-up for our regular newsletters and email communications!